Modern technologies keep changing the way we live life. Most of us didn't even own a cell phone just a few decades ago, and today, everyone has a smartphone or a tablet. We couldn't imagine going through an entire day without these devices since we use them for everything from work to studies and entertainment.
While tablets and mobile phones might look similar and share most features, apps designed for both devices are completely different. If you're looking to expand your business operation to mobile devices, you should first know the differences between their applications. That's exactly what you'll find in this article.
Smartphones vs. Tablets – Mobile Marketing
Mobile marketing is becoming the go-to solution for many companies, local businesses, and enterprises. As the number of mobile devices keeps growing every year, the need for mobile marketing is also on the rise. Put simply, mobile devices are the future of the internet, so the sooner you switch to mobile technologies – the better. In any case, a custom web design company provides a service to make your smartphone or tablet usable, or shell we put, responsive or adaptive.
Here are some of the main differences between using smartphones and tablets for your mobile marketing efforts.
1. Different Uses
Sit down and think back about the use of tablets in public. Even if you went to a crowded bus or a busy park, you won't see more than one or two people using a tablet. All others prefer using their smartphones as they are far more practical.
That's because these two mobile devices are designed to be used in different places. Mobile phones are smaller, easier to use, and are usually cheaper than tablets. That's why most people use their tablets at home or use them only on longer trips. Furthermore, tablets don't have a sim card, so you can't use them to make phone calls. That's what most people think sets these two types of devices apart. Everyone needs a phone every day, while tablets are somewhat a thing of luxury.
2. Immersion
Smartphones have a much broader application in everyday life. Most people see their smartphones as an extension of themselves because they use them for everything from making calls, reading the news, playing video games, answering emails, taking photos, and so on.
Tablets, on the other hand, are primarily content consumption devices with limited communication features. Sure, you can use chat features found in apps such as Facebook and Instagram, but you can't call or message anyone directly. Naturally, knowing that these two devices have different applications will affect your marketing campaigns in different ways.
3. The Personal Touch
Smartphones are highly personal devices that provide an immersive experience while tablets feel more like desktop computers. Most people don't share their smartphones with anyone. Tablets, on the other hand, are often used by multiple family members or roommates.
That alone makes a massive difference in the marketing approach you should take when advertising for new products, offers, or services. You'll need to use different targeting methods to get the same results. Since almost everyone owns a smartphone, you'll want your ad campaigns to be as individual as possible. However, since tablets are used as content consumption devices, you can still target users, but not as accurately as smartphone users.
4. Mobile Marketing Anytime and Anywhere
When it comes to marketing, smartphone users are easier targets because they are always near their phones. Most phones have sound notifications whenever a new message arrives, so you won't have a problem getting people interested. Whenever you post an ad, the target will interact with it in a matter of minutes in most cases.
Image source: https://unsplash.com/photos/EJ2tWVvvhU4
That gives you plenty of business opportunities, but only if you do things right. You can either get paid ads on social media networks, compose an engaging SMS message, or send an email, and the user will interact with it no matter where they might be. Tablet users are a little harder to target because they spend most of their time away from their devices. Also, some people use tablets only for gaming, while others use them to read ebooks, meaning that you won't have as much of a reach.
5. Users Want a Different Experience
Tablet and smartphone users expect a different experience simply because of the different applications these two devices offer. For example, most smartphone users read news and open ads on the go. They don't have enough time to watch long commercials and promo videos. Most people glance at their phones on the go and take action right away if they like something.
Tablet users, usually have more time, and they don't mind watching long videos or reading blogs. Whenever someone grabs a tablet, they usually have some free time to kick back, relax, and consume their favorite content.
Mobile Devices – The Best Business Opportunities
More and more companies and organizations have started using mobile technologies to find new business opportunities. Smartphones are more flexible, they allow instant communication, and companies often use them to boost employee productivity and efficiency. All of these factors work together to help companies make better decisions faster than ever before.
Workers can use mobile devices to research the market, finish projects, and find new business opportunities on the go. Moreover, some tasks can be completed faster and without any complications. Smartphones allow your team members to multitask without the need for any other devices, saving time and effort at the same time. Without the need for taking extra steps, the number of errors will also decrease.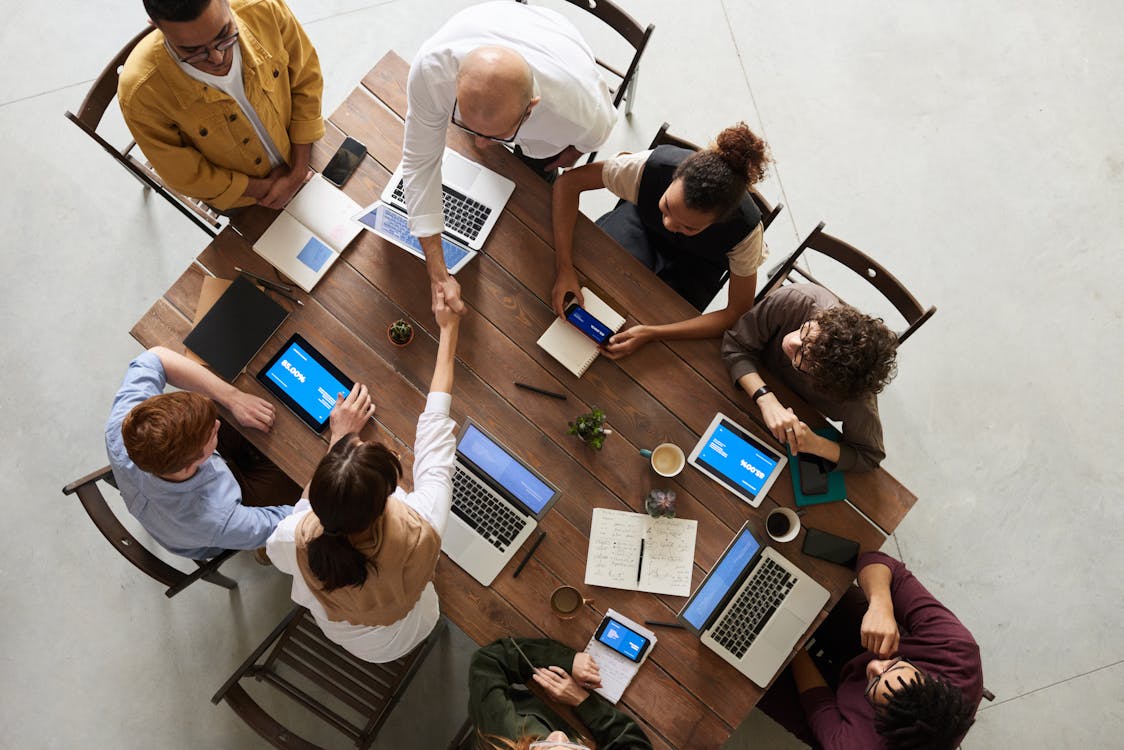 Image source: https://www.pexels.com/photo/photo-of-people-doing-handshakes-3183197/
Lastly, smartphones also eliminate the need for business practices such as printing, faxing documents, a business archive, and the effort needed to keep everything going. You'll also save some money on office supplies and power. Here's what a mobile device can do to help streamline the work at the office:
Quick access to time-sensitive information,
The ability to access all documents at any time and any place,
Constant communication with clients and company HQ,
Various social networking practices,
Multiple means of communication.
In other words, mobile devices offer the flexibility and portability needed to provide better customer support at all times. Your customer support team will be able to answer inquiries and requests through multiple channels using a single device. Not only that, but employees can also access the company database to find and send requested information, files, and other data while communicating with customers.
There are plenty of ways mobile devices can help a company grow and provide better service to customers. With a little effort and a few good ideas, mobile devices can help improve relationships with customers, build a strong reputation, and get the edge over the competition.
Drawbacks of Using Mobile Devices in Business
While mobile devices can simplify many tasks, they also pose a serious threat to the overall company security. Since every team member uses their own device, your operation will be under constant risk of cyberattacks. One wrong click or a visit to an unsecured page can lead to an accidental breach of security, which leads to devastating effects for the entire company. According to the latest statistics, 95% of all cybersecurity breaches are caused by human error. That's why you should organize some type of training for all employees before implementing mobile devices into your business operation.
There's also a thing of keeping the entire system and every device up to date. If only one of the devices belonging to the network fails to update on time, the consequences can be scary. You will need an IT team that keeps a close eye on every device and double-checks to make sure that everything is working correctly at all times to prevent security breaches.
Lastly, you will have to put a data control system into place to prevent misuse of data. If one of your team members loses the company phone, your entire operation could be at risk. As you can see, there are plenty of challenges you'll have to overcome to be able to use the full potential mobile devices have to offer.
Tablet-Specific Apps for Improved Efficiency
Some companies that have realized just how useful mobile devices are have started creating their own tablet-specific apps for better management. They keep developing new methods used to get the most out of tablets and other mobile devices.
Tablets offer a few significant benefits when compared to mobile phones. They have larger screens, more computing power, and better graphics, which often make a big difference in enterprise use.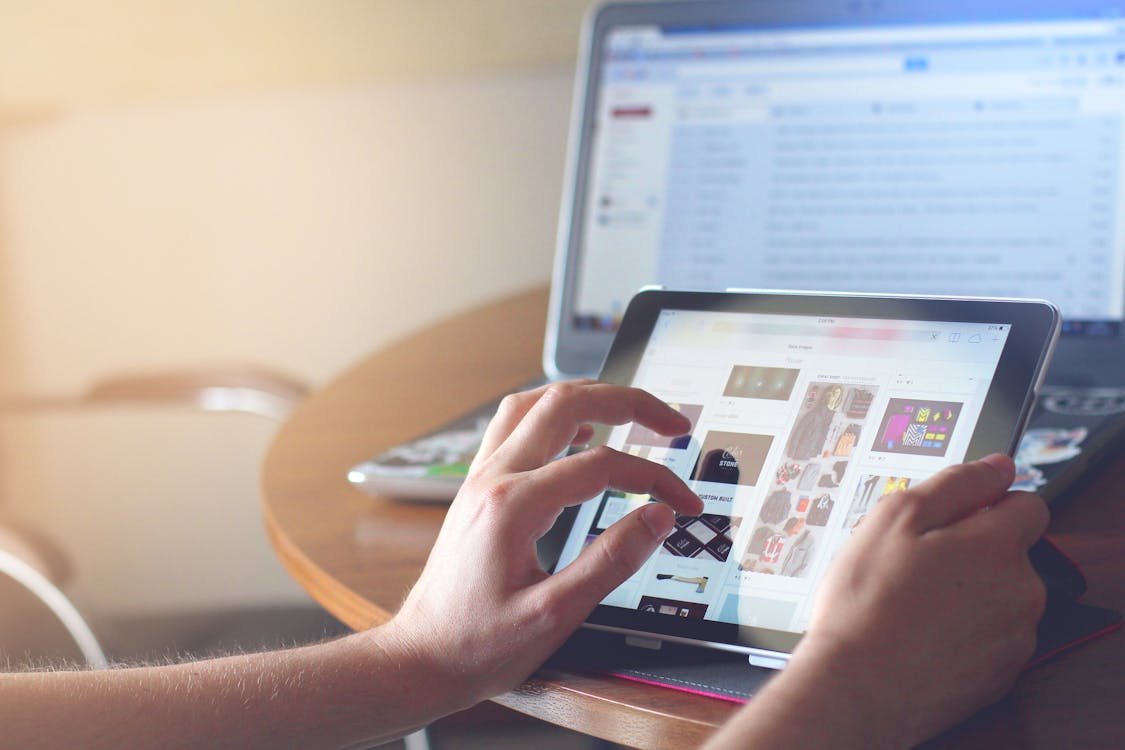 Image source: https://www.pexels.com/photo/laptop-technology-ipad-tablet-35550/
Your employees can use tablets to present many different types of information at once due to a larger screen. Mobile phones are much smaller, so they make it harder to complete some more demanding tasks. Mobile app developers have to work very hard to create responsive apps that work perfectly on both devices. Even if they manage to do it, likely, tablet users won't be able to use their devices to their full potential. That's why the best approach is to create multiple layouts for larger tablet screens and single-pane layouts for smartphones.
Mobile Device Management Benefits
Mobile devices can provide businesses and enterprises with all kinds of direct and indirect benefits. With the right device, app, and idea in mind, mobile devices can help increase engagement, boost the quality of services, and provide all kinds of benefits remotely. Here are some of the most common business mobile uses:
Placing orders,
Optimizing customer information,
Forwarding information to clients
Checking prices and discount rates.
Naturally, the application largely depends on the type of business. For example, a music producer can use a mobile device to:
Book rehearsals,
Submit demo tapes to CEOs
Provide clients with a virtual tour of the studio grounds.
Lawyers and attorneys can use mobile devices to:
Review laws and regulations in different states,
Fill out forms,
Check the customer's credit scores and personal information.
Employees can complete all kinds of tasks remotely without having to go to the office. That includes activities such as:
Viewing work orders,
Access to documents,
Communication with other team members,
Provide customer support.
Access to Cloud Computing
Cloud computing is completely transforming the way enterprises run their operations. The COVID-19 pandemic has shown that traditional legacy systems don't have the flexibility to cope with complete digitalization. As stores and offices around the globe went into lockdown, many companies struggled to meet customer's expectations due to a lack of mobile technologies.
Instead of investing in new hardware, software, and networking equipment, more and more companies are joining the world of cloud computing. It turned out to be much easier to scale and it offers full access to company data from anywhere in the world.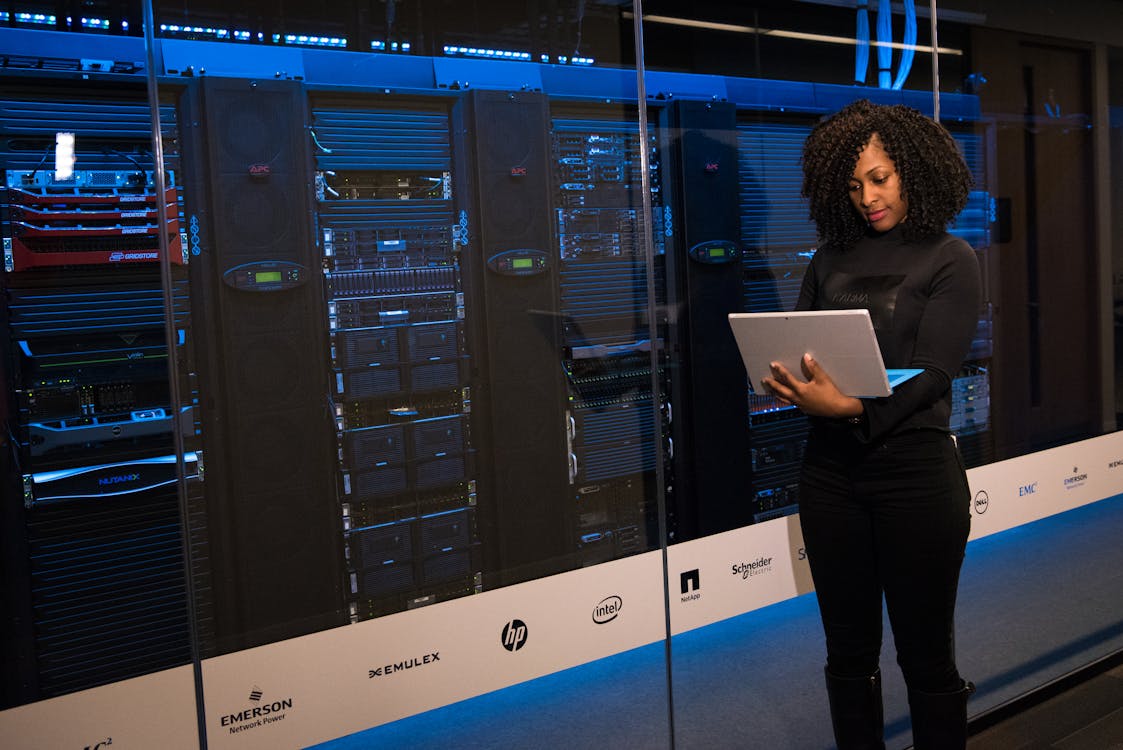 Image source: https://www.pexels.com/photo/woman-standing-while-carrying-laptop-1181354/
Combining cloud computing and mobile devices can give your company a significant headstart over your competition. That way, you can set up a new system exactly how you want it and provide specific roles for all of your employees. They can then use their mobile devices to access virtual office space and get the same amount of work done without leaving their homes. Read more about the challenges of running a virtual office here.
Better yet, you can hire a team of mobile apps developers to create a unique platform that fits your business goals perfectly. That's a much better option in the long run, as it's far easier to maintain and doesn't require any future investments into hardware, software, or manpower. Read more about the business benefits of using remote acess here.
Building an Enterprise Using Mobile Technologies
Mobile technologies have reached a new level in the past few years, and since the number of users is on a constant rise, enterprises can use that to expand their reach and increase conversions. As a marketer or a business owner, you should shift your focus to mobile technologies, as they will provide the most opportunities in the near future.
With the right software, a few creative ideas, and a flexible cloud system, enterprises can outgrow all borders and expand to an international market easier than ever before. That said, both types of popular mobile devices offer significant business applications. While smartphones offer marketing benefits, tablets provide more computing power need to complete complex tasks. That's why you should do some serious planning before adopting one of these devices as a primary technology. Sometimes, the combination of both will provide the most benefits.
Image source: https://unsplash.com/photos/DsmDqiYduaU